Relief for Family Caregivers Through Respite Care
What Is Respite Care?
Respite care for the elderly is any service that supports and maintains the primary caregiving relationship by providing temporary care to an aging parent, spouse, or loved one.
If you're the family caregiver for an aging loved one, you may be experiencing some form of stress or burnout. It's natural for family caregivers to become so involved in taking care of someone else that they tend to allow their own needs to get put aside.
This is why respite care is so important for caregivers. As the number of caregivers increases— and there are already an estimated 34.2 million caregivers in the country today—the number of people suffering from exhaustion, stress, isolation, depression, and physical ailments is also rising. This is no coincidence. Primary caregivers need to recognize that they deserve a break from their responsibilities to take care of themselves, too. And taking some time away from caregiving duties will make the person a better caregiver in the long run.
Many family caregivers feel guilty at the thought of seeking respite services for their loved ones. A recent survey of caregivers by the National Family Caregivers Association showed that it's challenging for spouse caregivers to acknowledge that their role is different and separate from their role as a spouse. Caregivers need to acknowledge that caregiving plays a totally separate part in their lives and that the job of long-term caregiving can be too big for just one person to handle.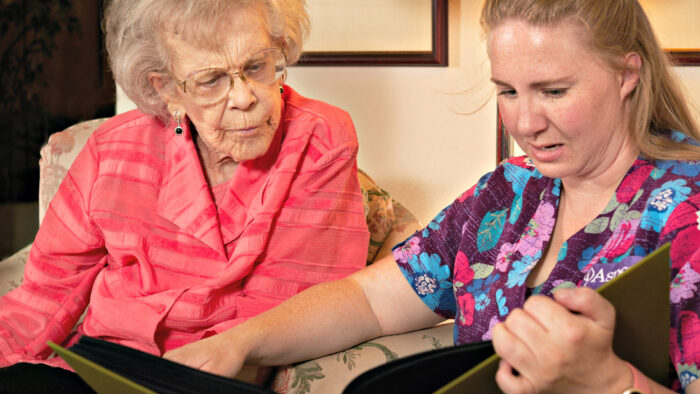 Finding Relief in Respite Care
The benefits of respite care are numerous for family caregivers. Taking time away from caregiving demands will leave a caregiver refreshed and renewed, allowing them the opportunity to re-energize to be a more effective caregiver. Caregivers deserve time for activities they enjoy, whether it be reading, gardening, taking a walk, taking in a movie or museum, or whatever relaxes and eases the caregiver's spirit. It's also important for family caregivers to maintain social relationships with friends and other family members to avoid isolation and depression. And caregivers may need time to take care of personal errands such as seeing their own doctor or possibly attending a support group with other caregivers.
Ideally, caregivers will have regularly scheduled breaks provided by help from friends or other family members. However, if that support is not available to the caregiver, various respite care options are available. Respite care services are offered through community agencies, home health care companies, and residential care facilities. A good place to start in the U.S. is the Eldercare Locator, a free nationwide toll-free service designed to assist older adults and their caregivers find services in their community. Additional resources are local senior centers, Area Agencies on Aging, and the Family Caregiver Alliance.
Companies like Aspen Senior Care in Utah Valley, UT, can be a great option for family caregivers needing respite. Aspen provides:
⦁ Caring companionship
⦁ Personal hygiene care and showering
⦁ Homemaking assistance and light housekeeping
⦁ Meal planning and preparation
⦁ Transportation and help with errands
⦁ Medication reminders and assistance
⦁ Family caregiver coaching
⦁ Alzheimer's and dementia care
⦁ Respite, night care & holiday care
⦁ Hospice care (non-medical)
⦁ And much more!
During a free assessment, Aspen will:
⦁ Discuss matching you with the best caregiver
⦁ Assess your loved one's personal care needs
⦁ Determine health care, medication, and nutritional needs
⦁ Discuss emergency response services
⦁ Determine homemaking and transportation services
⦁ Discuss service costs and payment options
⦁ And, Create a quality care plan for your loved one
It is also ideal for family caregivers to create space in their home solely for themselves, whether that be a reading nook or an extra bedroom. Caregivers are advised to designate time every day, such as while the care receiver is taking a nap or when they first go to bed — something just for themselves.
Before planning respite care, caregivers should talk with their loved one about it so that they understand the benefit to both.
Remember that respite care should not be considered a luxury but a necessity for the caregivers' well-being and their aging loved ones.
—Contributor for The Senior's Choice