Serving Seniors In Our Community!
We enjoy serving seniors in our community. Our Aspen Gives! program gives us the opportunity to do even more and find unique ways to serve seniors in need every month. If you know of a senior going through challenging times, please send them our way. We'll look for a special way to lift them up and help improve their quality of life.
Here are just a few examples of our free service opportunities:
Several hours of free in-home respite care.
A fun birthday surprise!
Work with others to do house cleaning or carpet cleaning.
A no-cost in-home wellness visit by a registered nurse.
A complimentary local transportation trip.
A free day at Aspen Senior Day Center in Provo.
We ask you to join us in our quest to improve the lives of seniors in our community each month. Just refer a senior in need to us and let us know what you think their greatest needs are. We can work together, and/or we'll find others to help.
Call Susan directly at 801-420-5167 to refer a senior in need today!
See our Aspen Gives! stories below!
Caring at All Stages of Life
We worked alongside ICare Home Health and Hospice to provide caregivers to a senior in need. ICare referred us to Marilyn, a lovely senior in our community. Marilyn was at a point where she needed additional assistance and loving care throughout the day. We are grateful our caregivers were able to give Marilyn peace of mind through this delicate stage of life.
Family Support
Our team provided caregivers to help Victor, an elderly gentleman in our community who was struggling with Covid. Victor's sons were taking turns helping their father after he came home from the hospital, but they needed some additional help while they were at work. We were happy to assist this wonderful family during their time of need. 
Loving Lesley
Our sweet and dear caregiver Lesley recently and unexpectedly lost her husband. We could never serve seniors in our community without excellent and dedicated caregivers like Lesley. Our team came together to raise funds for our dear friend to alleviate some of the family's financial costs during this difficult time. 
A Fresh Space
We know how overwhelming it can be to keep up on day-to-day tasks around the home when being a caregiver to a loved one becomes a priority. When Cindy expressed how overwhelmed she felt, we knew exactly what we could do to help! After a deep clean of her home, Cindy expressed how grateful she was to focus on her husband's care and how wonderful it was to have their home clean and refreshed. 
Supporting Our Caregiver
Our dear friend and co-worker, Anne, recently suffered from a Hemorrhagic stroke. In support of Anne, we donated towards her GoFundMe to help cover the cost of a recumbent bike as well as medical bills. We are so grateful to all who donated as well; every little bit helps towards her recovery and we thank you for your support.
A New Suit and Tie
Meet Heather and Buddy! We love seeing the special friendships formed between our caregivers and clients! Heather reached out to us to let us know how much Buddy would benefit from a new suit and tie and a few other items. We were happy to make this a reality and put a smile on Buddy's face!
A Birthday for Betsy!
Happy 90th birthday, Betsy!  It was so fun to see photos of Betsy opening her gifts surrounded by her friends and family. We're grateful to our caregiver, Allison, for helping to make Betsy's day so special! What a beautiful friendship! 
Caring for the Caregiver
We were tickled pink to be able to give a basket of sunshine to our caregiver and her daughter who were going through a difficult time. We know how important it is to care for the caregiver, especially when times gets tough. We are so grateful to have Sheryl as part of our Aspen team, and are so happy we could see these two beautiful smiles!
Happy 94th birthday, Reed!
Reed is a senior in our community who has a wonderful history! He graduated from Cal Tech with a degree in Electrical Engineering before going on to get another degree in Nuclear Physics in Oakridge, Tenessee. He was stationed in Pearl Harbor for 2 1/2 years. Reed was also appointed by President Raegan to be on a special task force aboard nuclear-powered submarines. Wow! We loved learning more about Reed and were so honored to be able to treat him for his birthday!
Thank you to Canyon Home Care and Hospice for nominating Reed for our Aspen Gives program!
Yum!
We wanted to treat one of our special senior clients in a special way. Chuck has been a part of our Aspen family for many years and we love to spoil him with a delicious meal when he has a craving. Chuck requested a McDonald's Big Mac and fries and we were happy to deliver so he could enjoy his meal in the safety and comfort of his own home. 
Sending Letters of Love
As always, our caregivers are working hard and taking every precaution to ensure the health and safety of our clients during the coronavirus outbreak. We understand that isolation is necessary at this time – especially for our high-risk seniors – but it can be an enormous cause of loneliness.
We wanted to find a safe way to check in with our clients and let them know we were thinking of them. Letters from our team are a great way to safely share this inspiring message while letting them know they are in our hearts and minds.
A Birthday Bash!
What a truly delightful treat! We teamed up with Canyon Home Care and Hospice to surprise Sherol with a party for his 89th birthday! Sherol was surrounded by his friends and family who showered him with love and attention at Seasons of Santaquin. There was no shortage of good food, fun, and smiles. We're so grateful we were able to be a part of Sherol's special day through our Aspen Gives! program. Happy 89th, Sherol!
Caring for a Caregiver
Johnnie Sue Johnson has been a great caregiver with us here at Aspen Senior Care for many years. She is a dedicated caregiver who treats her senior clients with abounding love and care and is incredibly loved in return.  Johnnie Sue's husband, Mike, has had some serious health challenges and was recently released from the hospital a second time after being in ICU for a number of days. He's just starting to make some improvements which is relieving to hear. However, Johnnie Sue has been his primary caregiver around the clock and neither Johnnie Sue or Mike have been able to work at all. As one could imagine, this has put an added strain on an already difficult and heartbreaking situation. 
Our Aspen team loves to take care of one another and we always want to give as much support as we can when any of us are in need. This is why we wanted to make sure Johnnie Sue and her husband received some extra love and financial support through the Aspen Gives! program.  We thank our caregivers for rallying around Johnnie Sue and Mike and donating towards a much-loved member of our team!
Giving a Lift to Lift a Spirit
Yolanda is our Aspen Gives! recipient. Because of recent surgery, Yolanda was finding it difficult to make it to her medical appointments. Aspen Senior Care wanted to support Yolanda by arranging rides to her doctor's appointments as well as helping with some of her day-to-day errands.  We are so grateful for the opportunity to lend a hand to Yolanda and assist her in starting 2020 off in the healthiest way possible.
Aspen Gives! Stocking for Seniors Project 
This season Aspen was able to contribute supplies towards The Seville's Christmas Stockings for Seniors project! Together with many other Partners in Care in our community, this project was able to gift over 3,000 stockings full of goodies to seniors this holiday! Thank you to Christmas Lutu, The Seville, and many people donating towards making many seniors' Christmas so much more bright!
Aspen Gives an Autumn Clean!
This smiling senior is Donae with her Aspen caregiver, Elycia. Donae the recipient of our Aspen Gives! program. 
Because she is wheelchair-bound, Donae was finding it difficult to keep up with her household chores like she once could. We know how overwhelming it can be to lose the ability to do the things we once could. So, we wanted to find a way to help alleviate some of Danae's day-to-day tasks with a big Autumn clean! After both an Aspen Gives! deep clean and week-to-week light housekeeping from her caregiver, Donae can now better navigate her home and enjoy one of her favorite pastimes, reading and enjoying her cookbooks!
Supporting our Dear Friend
We rallied together in support of someone very near and dear to us for the month of September. On Saturday, September 14th, our dear Susan Johnson lost her son suddenly. We as an Aspen family and the senior care community wanted to help Susan and her family give her son, Tim, a proper burial and to help with any other expenses that may arise. Susan is a wonderful person and has been the face of Aspen Senior Care in the community for a number of years. She is well loved and well known for her goodness and loving ways.
Supporting the Alzheimer's Association in the Walk to End Alzheimer's
Aspen Senior Care and Aspen Senior Day Center are excited to partner with the Alzheimer's Association in the Walk to End Alzheimer's. Every September, thousands of people come together to raise funds and awareness for Alzheimer's care, support, and research. Team Aspen came together to attend the walk as well as donate towards this wonderful cause through two bake sales. We are so excited to announce that we were able to surpass our goal! Thank you to all who made this goal a reality and for helping change the lives of millions of individuals affected by this disease.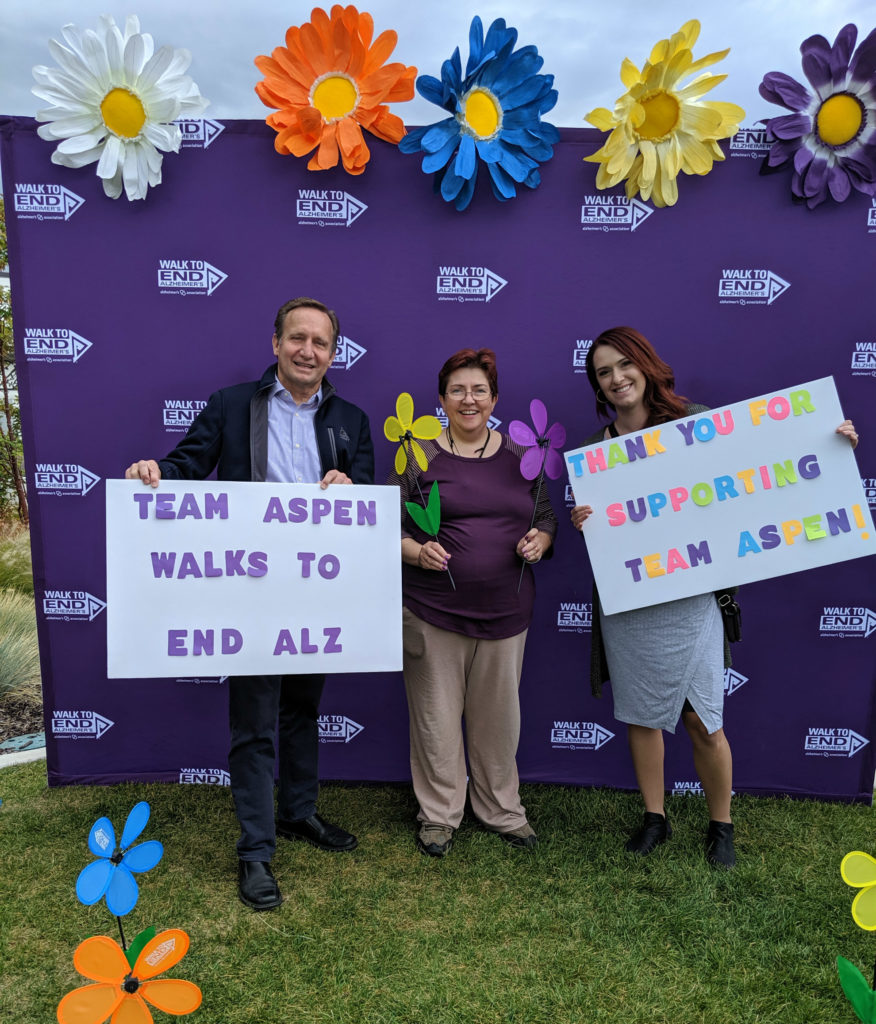 Take Me To The Ballgame!
August brought us a fun opportunity to treat a local senior to one of his favorite activities! Tom loves baseball and wished to make it to a Salt Lake Bees baseball game this summer. After surprising Tom with tickets, Comfort WoRx Hospice reached out to us to help make Tom's wish a reality through our Aspen Gives! program. Aspen's caregiver, Cortland, provided Tom with transportation and companionship for a fun-filled day at the game. Thank you to Comfort WoRx for reaching out and allowing us to help treat Tom to a memorable day!
Home Sweet Home
Shanna is a senior in our community who has been unable to live in her home after health difficulties required her to move to a health specialty center. It was expressed through a friend of Shanna's that she would greatly benefit from having her home cleaned so she could arrive to a fresh and comfortable space to continue healing. Our Aspen Gives! program provided a full home and carpet cleaning to ensure that Shanna's home is ready when her health allows her to return. Shanna expressed how excited she is to see her home and to be able to relax in her own space again. We are so grateful for the opportunity to step in and make a difference where there are seniors in need. 
Food for Thought
 Aspen had the opportunity to serve Delia Maria and her son, Miguel, who reside in Provo. After living in the states for many years, Miguel decided to move back to his native country of Ecuador to care for his mother when her health began to decline. However, in 2016 a major earthquake made living in Ecuador very unsafe. Miguel brought his mother to Utah where he became her full-time caregiver. Because Delia Maria's health requires his full-time attention, Miguel is unable to work. Understandably, this situation has been hard on Delia Maria and Miguel. Through our Aspen Gives! program we were able to lend a hand with some much-needed items such as food, clothing, bedding, and respite care. Delia Maria and Miguel expressed their gratitude for the extra aide and hope to pay it forward in the future.
A Clean Start
We are grateful to serve our community and help any senior who may need some additional help through our Aspen Gives! program. This month we had the wonderful opportunity to help Don K., a senior in our local community. Don is wheelchair bound and unable to easily navigate his home and keep up on his house cleaning. Because of this, Don was struggling to meet the requirements of his housing contract. We wanted to ensure that Don could remain in his home and we were happy to provide a cleaning service to help give Don's home a fresh cleaning. Don will now be able to remain comfortably in his home. He was so grateful he wanted us and our cleaning crew to come back again soon!
Uplifting One Another
We are so grateful to those who donated towards Ines' family for our Aspen Gives! program.  Her family is so appreciative of your love and support and they wanted to share their thanks.
Dear Aspen Caregivers and Others,

Spencer & I were deeply moved by the generosity of each of your donations.

It comes at a time where it is much appreciated. We are inspired by your kindness & goodness. We are grateful for your support & love.

Ines often shared with us the wonderful experiences she had with the choice seniors she interacted with. She enjoyed getting to know many of you, as she was able. She treasured the friendships she made within her Aspen family. Know that you have made a difference for our family. Thank you.

With love & appreciation,

Spencer " Shorty" Conover,

April, Nyah, & Brylee Lozano
Pamper and Relax
We are so grateful for the opportunity to serve K this month for our Aspen Gives! program.
K has had to deal with many difficulties after her back was broken subsequent to back surgery. This has led K to struggle with back pain, in addition to dealing with fractured hips. Because of this pain, K has a difficult time showering comfortably. We wanted to provide a solution and pamper K, so we provided an extendable shower head as well as some fun and relaxing bath items. Although she requested to remain anonymous, K says, "I can't believe it! Aspen has the nicest people I have ever known. I love you guys!" 
I Can See Clearly Now
Our Aspen Gives! program helped a local senior in our community receive a new pair of eyeglasses. Brian is a transplant to the Utah Valley area after moving with his family from California. He is a dedicated family man with a positive attitude and a kind heart.
He had been wearing broken glasses for some time and was unable to afford a new pair. Although Brian already sees everything from a positive point of view, we decided it would be helpful if he could  — quite literally — see a little better as well!
We are so grateful to be able to serve seniors in need every month and even more grateful to meet amazing people like Brian.
A Strong Team
Our team was given the chance to help out someone very dear to us.  Ines has been with Aspen from the very beginning – over 14 years ago! Ines is a strong and important part of our office team, and she is one of the most genuine people you will ever meet. Ines always makes every person she meets feel heard and cared for, especially our clients!
For the past few months, Ines has been struggling with her health and we wanted to help alleviate her financial worries by donating towards her medical bills. We decided we couldn't think of a more deserving person to help with our Aspen Gives! program for January.
Respite and Rest
We were able to donate towards a wonderful cause. Sharon, a full-time caregiver for her 94-year-old mother, was at risk of losing her home because she could not pay her mortgage. She works tirelessly day in and day out caring for her mother Dorothy, a responsibility that she adores, yet a responsibility that takes almost all of her time. Dorothy relies on Sharon for everything: from bathing to dressing, to preparing meals to helping to the bathroom. Dorothy cannot walk, even with a walker, without assistance from Sharon.
Sharon works hard and diligently at both of her jobs, but could not make ends meet because of the demands of caring for her mother. Because of her struggles, she became two months behind on paying her mortgage. She could not afford to hire someone to help her with her work or with taking care of her mother so she continued to fall hopelessly behind.
Dorothy says that Sharon is the hardest working person she knows. Sharon is generally able to keep up on these bills throughout the year and this is her busiest time of year. However, this month she just needed a little boost of help and we were grateful to be able to help towards that goal.
Family and Friends
October and November brought us the joy of helping John A. and his daughters Pat and Judith from Vineyard. 
John was in need of some additional help in his home after he experienced unexpected difficulties with his health. Along with support from two top home health agencies, Aspen was able to give a lot of needed supplies, food, and help to both John and his daughters, Pat and Judith, through our Aspen Gives! program.
Aspen caregiver Frederika was able to assist John in his home with activities of daily living along with preparing meals and companionship care. A much-needed power lift chair recently arrived along with many important day-to-day supplies that have helped John feel more comfortable.
Caring Caregivers
We were so proud and grateful for our loving and compassionate caregivers Ana and Makenna who took a few days to assist Ann (one of our newer clients) and her husband with some cleaning in their home. Not only did Ana bring her client's needs to our attention, but she also offered up her own time and enlisted the help of Makenna to help Ann and Clarence feel more comfortable in their home with a fresh Fall cleaning.
Lifting and Loving
We had the opportunity of joining together to help one of our own dedicated and amazing caregivers. After her husband became severely ill, our team worked together to help with the unexpected medical costs. Alicia is an incredibly hard-working caregiver who not only helps our clients in their own homes but is also a well-loved team member at the Aspen Senior Day Center in Provo. The Day Center helps seniors with memory loss enjoy their days with fun activities while family caregivers get the break they need.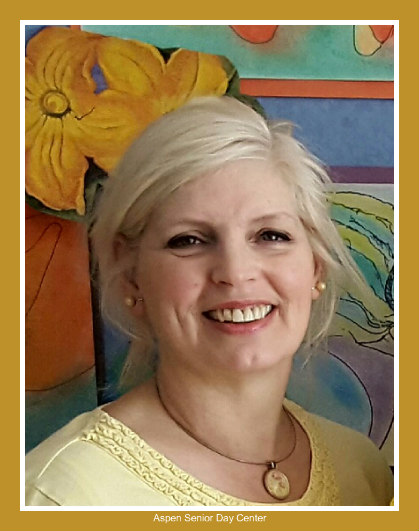 A Shine and A Smile
"Sometimes it's so hard to be brave when you've just reached your limit as a family caregiver. That is why I am so grateful to have others know how I feel and to have some help and support!"  –Lori R.
We served Lori and Peter with top to bottom homemaking services as part of our Aspen Gives! program. We love serving seniors who may be experiencing a difficult time and giving them a reason to smile and know others care.